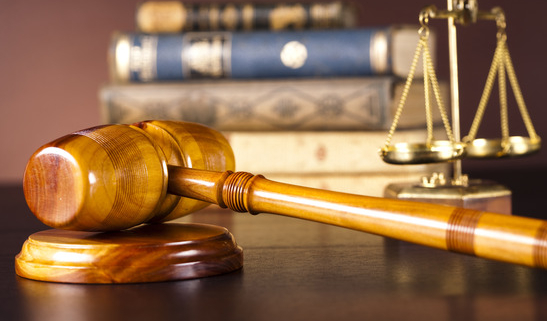 Purchase New York Business law attorneys are instrumental in various functions that support New York businesses.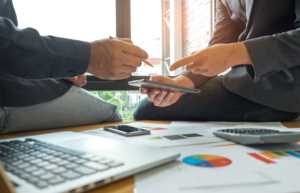 Purchase business attorneys at the Bobb Law Firm offer qualified advice, supported by first-hand knowledge of New York State's statutes concerning the structure of a business entity, tax considerations, contracts between entities, and employee contracts.  They represent clients when they run into civil, or criminal obstacles necessitating the professional skills of a business law attorney in Purchase New York.
New business start-up and how a Purchase lawyer can help you.
A Purchase NY business attorney can help individuals with:
Naming a corporation. Filing a request for a chosen name by a client. A name must be unique and distinguishable for State Department recording, and include "Corporation," "Incorporated," "Corp," or "Inc."  A name search is necessary before submitting documents.
Drafting articles of incorporation.  A business law attorney in Purchase NY can assist with the creation of this document that includes: 1) a principal office or street address for the business, 2) a mailing address if different from street address, 3) choosing a registered agent and supplying their name and address as the person responsible, on behalf of the business who has a physical address, not a P.O. Box, 4) a signature on the proper form for the registered agent accepting obligations according to New York Statute, 5) a specific purpose for the corporation, such as "community support," 6) using specific language to reflect the 501(c)(3) status from the IRS, 7) choosing a governing body for the corporation and how they will be elected, 8) drafting by-laws which will state how the company will be run, 9) choosing an effective date of the corporation which will require annual renewal documents with the State, and 10) providing signatures of all responsible parties to the corporation.
Filing 501c3 paperwork with the Internal Revenue Service of the United States for non-profit entities.
DBA, or Fictitious Name assignment if necessary, an attorney can advise with this.
DUNS numbers are required for federal granting agencies and an attorney can fill out the required paperwork and supporting documentation.
Setting up relevant tax structures at the outset of a new business is important to smooth state and federal tax document filing. A business law attorney in Purchase can be of great assistance to advise principals on the tax structure suitable to their business revenue stream.  They can also file quarterly and annual returns, in collaboration with an accountant.  In some cases, a business attorney may have experience with the tax laws for corporations and may include those activities in their corporate representation professional relationship with a client. 
Contract disputes and how a Purchase New York business contract lawyer can help.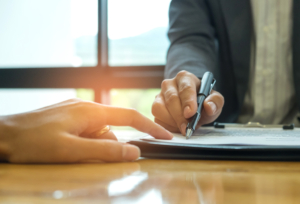 When contracts are drawn up between business entities, or individuals, legal disputes may occur necessitating the services of a business law attorney in Purchase. A contract is an oral, written, or digitized agreement between two or more parties outlining terms for parties to make a legal "exchange of something" – a consideration.
New York Courts allow freedom to form and negotiate most contracts without government intervention, but it is a wise practice to utilize the services of the Bobb Law Firm to review disputed contracts, and address litigation arising out of an alleged contract breach. The intent of parties to a contract must be spelled out to avoid confusion about what is expected of the parties in order to satisfy the contract. Experienced Purchase NY business lawyers can work with disputing parties, or their legal representation to clear up arguments over legal contracts that can be oral, or written instruments. Written contracts protect and outline legal action in the event there is a breach of duty caused by extenuating circumstances.
Deviations from elements of a valid contract. 
When a contract is prepared, it needs to contain certain elements that make it valid.  When companies, or individuals enter into agreements using invalid contracts, lawsuits may need to be filed to correct the deviations in the contracts, and to recover any losses related to the invalid terms of the contract.  A business litigation attorney in Purchase New York in can be instrumental in correcting contract deficiencies regarding: 
A stipulated start and end time, including the length of contract, and signatures proving agreement of consideration and process of delivery.
Naming jurisdiction as to wherea dispute will be resolved; indicates which state's law will be used to decide the dispute.
Parties to a contract must be named and linked with their associated business entity.
Purpose of the contract includes consideration, or the amount, or benefit the parties will exchange for their unique demands.
Delivery of goods or services named in the contract along with a timeline.
Compensation is the payment for completing the delivery of a good, or service.
Terms and conditions include a scope of work, and outline party expectations.
Consequences of breach result in liability assigned to each contracted party if they breach, or fail to deliver upon the agreed terms.
Legal services of a Purchase NY Business Lawyer including Corporate dispute representation.
New York businesses should keep in mind that "implied in fact contracts" can be enforced as well as written instruments.  Business lawyers at the Bobb Law Firm are valuable in representing legal profit and not-for-profit entities involved in disputes over matters related directly to the activities of a business structure, such as contract disputes, workers' compensation claims, and any breaches of employee confidentiality agreements, or  best practices, in accordance with federal and state guidelines. Counsel can help with human resources disputes and illegal hiring, or firing practices that violate laws.
Mishandled business valuations.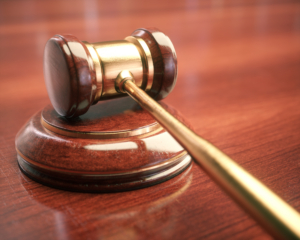 When a business owner decides to sell, experienced business lawyers can help owners determine the market price, based on annual revenue, earnings, and physical assets, including real estate and equipment, minus any debt, plus intellectual property. Legal counsel will work against false claims regarding business valuations that decrease, or inflate a company's worth, to take advantage of either party in the sale.   
Hire a Purchase NY business lawyer.
An experienced Purchase NY business attorney at the Bobb Law Firm can initiate legal actions against clients in court when contract disputes, or other business problems arise.
THE BOBB LAW FIRM, PLLC
Phone: 866-994-BOBB (2622)
44 SOUTH BROADWAY SUITE 100
WHITE PLAINS, NY 10601
Sources.
https://www.nysenate.gov/legislation/laws/GBS
https://www.dos.ny.gov/corps/bus_entity_search.html
https://www.irs.gov/charities-non-profits/charitable-organizations
https://bobblawfirm.com/wp-content/uploads/2021/01/photodune-4385116-legal-gavel-on-a-law-book-xs.jpg
365
547
damg
https://bobblawfirm.com/wp-content/uploads/2020/01/logo-white-gold-the-bobb-law-firm-300x97.png
damg
2021-01-22 19:58:08
2021-01-22 19:58:08
Purchase New York Business Attorneys